At the beginning of July, I hopped on a plane for the first time in what felt like ages, and scooted off to sunny Lisbon for a long weekend with one of my friends. Coincidentally, it seemed like everyone I knew had either just been, or was planning to go to Portugal – it appears to be quite the hot ticket destination right now!
After four days in the country's capital, I can see why everyone is heading there – it is truly a gem! Not only was it consistently sunny (a great escape from the rainy Belgian weather during June), but the people and the atmosphere of the city was amazing. It is an easily walkable city, albeit with quite some challenging hills (known as the seven hills of Lisbon), and it seems that there is a surprise around every turn. Cobbled, narrow streets hide small shops and restaurants, and if you're not careful your can easily get hopelessly lost.
Without even realizing it, we clocked over ten kilometres of walking each of the four days we were there. It's a good thing too, because the food in Lisbon is another of its plus points. Seafood is definitely the local speciality, and I think I had something from the ocean for every dinner and almost every lunch we were there.
We got very lucky with our restaurant the first night – Pateo 13 in the Alfama district we were staying. They only have tables on the terrace and an open-air grill where they cook your seafood. Normally, you can expect to wait in quite a line before getting seated, but thanks to the Euro-Cup match Portugal was playing, the terrace was virtually empty. (And we saw the line on a subsequent night – it was impressive!) I decided to dive right into the local fare and tackle a small fear of my – sardines.
In fact, the waiter tried to convince me to take something else; he said he didn't recommend sardines to foreigners as they are tricky to eat. I didn't want to be deterred (it took most of my courage just to order them in the first place), so I convinced him to teach me the right way to eat them.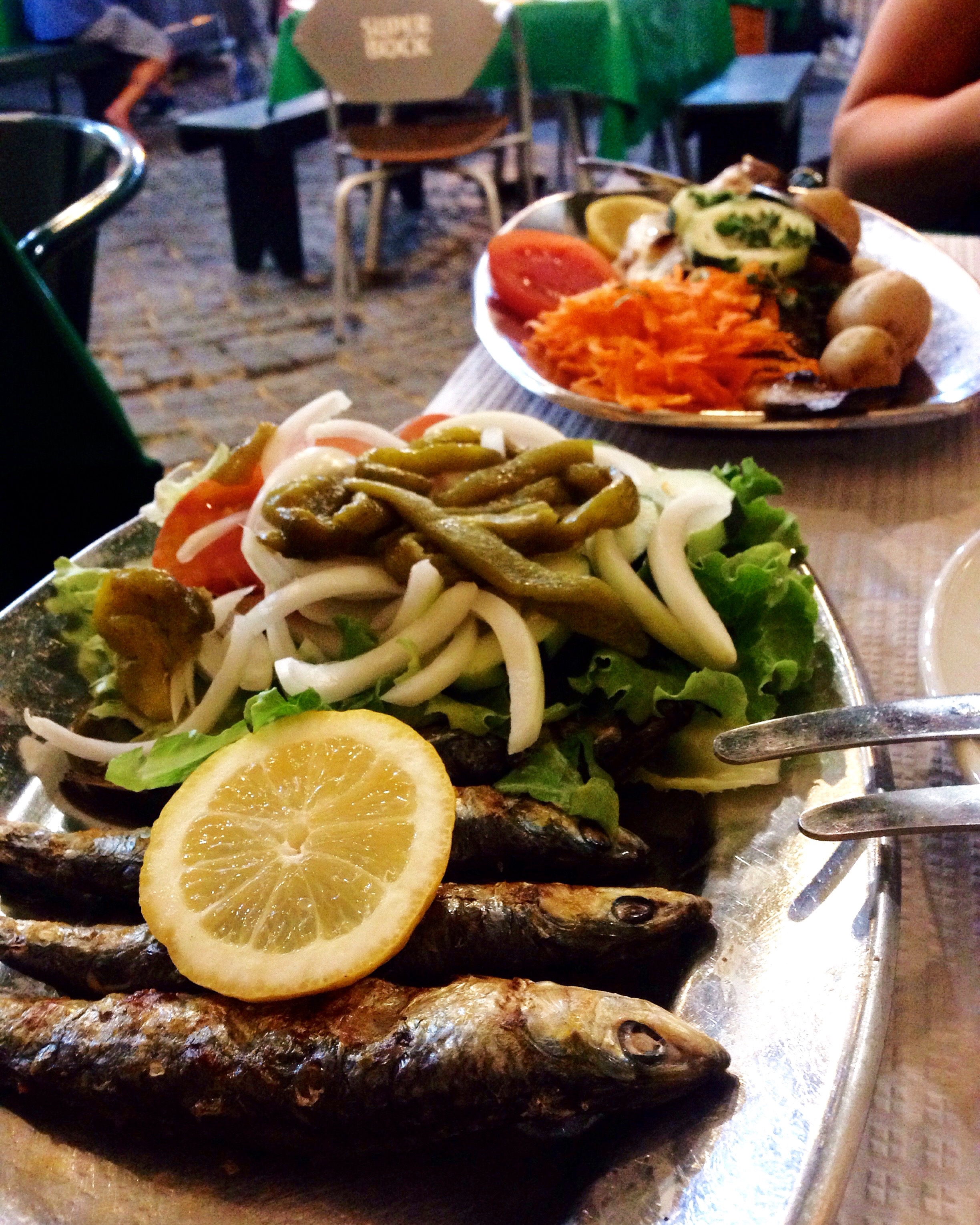 It was incredibly sweet, the waiter brought an older man over, (I think likely the owner), and he gave me a crash course in eating sardines. First, slide the knife under the skin and carefully pull it away. Then cut off the tail and head, before even more carefully scrapping the meat off the fish with your fork. He finished by topping with some olive oil, and I was all set! Although I still had four more sardines to manage on my own… As an alternate method, the waiter told me that he eats his sardines just using his hands. One step at a time for me, though.
I'm really glad I stepped out of my comfort zone while in Lisbon. My next challenge is to finally open up one of the tins of sardines that are now stocked up in my panty. I'm also quite keen to get my hands on some fresh sardines here in Belgium and try grilling them on my own. Sometimes we can get too caught up in what we are eating at home, and be unwilling to try new things while travelling. But I definitely surprised myself this time. Not that sardines are the wildest, craziest food out there, but I am happy to push my boundaries a little bit!